The 'strategy of encirclement' is a political and military strategy using which a country can encompass its rival nation with the help of its military bases and friendly territories and isolate its rival nation during the time of war. The encirclement of India by China is said to be originated in 2004 when the ' string of pearls ' hypothesis emerged for the first time. Under the 'string of pearls' hypothesis, china has been building a network of Chinese military and commercial facilities in the Indian Ocean region and trying to improve its relation such that it can be used against India when needed. These facilities stretch from the 'horn of Africa' to 'China's mainland port'. Many analysts believe that string of pearls, belt and road initiative and debt-trap diplomacy together completes china's 'encirclement strategy'. But this strategy of china is only to trap India from all four sides, there are also other ways by which China is trying to counter India one of which is its ' three warfare strategy'. Many countries use 'three warfare strategy' except India.
China in east africa
The most important Chinese asset in east Africa is Djibouti where China has built a military support base. This base came into existence in 2017. Djibouti is a strategic piece of land located in bab- el-Mandeb, which separates the Gulf of Aden from the red sea and is also a crucial chokepoint that guards the Suez canal. Due to Somalia based piracy problem, other than China, the US France Japan also maintained their respective military base in Djibouti. Other than this there is no official Chinese base in eastern Africa but analyst suspects that China is taking benefit of the economic compulsion of the East African countries and by using its debt-trap diplomacy china is investing a large amount of money in infrastructure projects in East Africa. A report from the centre for strategic and international studies (CSIS) points out that China is involved in 46 seaports in Africa and there is a certainty that Beijing will use these investments in future to enhance its military and political reach.
The Chinese naval activities have been seen at least in 6 seaports in Africa. The most important port in the red sea is Sudan's 'port Sudan' and Eritrea's port Massawa which are being built by China and operation of port Sudan is in control of China. Other than this Kenya's port Lamu and Mombasa, and Tanzania's port dar-es-salaam, maruhubi and mtwara port are also included in this list of ports with increasing Chinese presence.
China in the Persian gulf
The Strait of Hormuz located in the Persian Gulf is the next chokepoint of trade in the Indian ocean. In this area, Strategically located Oman is also been a nation accepting Chinese investment for a long time. It's one of the examples here is 'duqm port' which earlier was a fishing village, now china is helping oman to make duqm port an industrial city and is planning to invest around $10 billion there. Other than this Yemen, China has signed several important deals in 2012 and 2013 which includes china national corporation for overseas economic cooperation (CCOEC), 3 natural gas-fired power plants and 2 container ports at Aden and Mokha worth $508 million. There is a major power in this region, Iran. After US sanctions on Iran, it has been in search of new economic partners in the region. Meanwhile, China has committed a 400 billion dollar investment in Iran in the next 25 years. It is believed that this deal will bring a positive push to China in middle east.
Role of Pakistan
Pakistan is considered the biggest security threat to India as it has been a substantial exporter of terrorism in India. Pakistan's relations with China has been rapidly transformed in the last few years due to its increasing distance from the USA. Pakistan's most strategic and important point is the port of Gwadar who's construction rights had been allotted to China for 40 years.
Gwadar port in Pakistan is located near the Indian invested port chabahar in Iran. Gwadar becomes more important because it acts as a crucial link between China's ambitious belt and road initiative and the maritime silk route.
Under BRI, China Pakistan economic corridor (CPEC) will provide direct access to Gwadar port to China. CPEC is already resented by India since it passes through Pakistan occupied Kashmir (pok). On the other hand, China and Pakistan's increasing and improving military ties are also a concern to India. SIPRI report underscores that China is Pakistan's largest arms partner country. The arms import to Pakistan from China has increased from 58.42% in 2009-18 to 69.12% in 2014-18.
China's influence in Maldives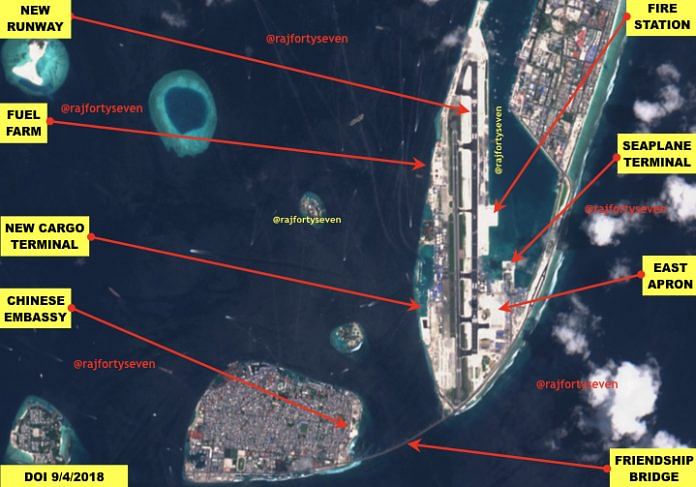 The CSIS's 'Asia maritime transparency initiative' report claims that China has also been active in the Maldives for year's now. Most important here are China's island development projects in feydhoo finothu, kunaavashi and hulhumalé (which is located near Maldives capital 'malé'). The Maldives became a cause of concern when the Maldives went through a political crisis in 2018 because of pro china president Abdulla Yameen. But later India felt relieved when in 2019 Maldives elections Ibrahim Mohamed Salih returned to power and Maldives politics was stabalised.
China's influence in Sri Lanka
China's debt-trap policy seems most pronounced in Sri Lanka where China has taken over the Hambantota port on lease for 99 years. Recently Sri Lankan parliaments had also passed a controversial Colombo port city bill. This bill will increase the hold of China on Colombo port city. China has also been working on two-hybrid renewable energy plants at 'nainativu' and 'analaitivu' islands which are located near Indian territory.
China in Bangladesh
After an agreement with Bangladesh in 2017, Chinese companies have purchased three natural gas fields in the country. China would also help Bangladesh to lay down a 220 km pipeline for importing oil to the Chittagong refinery. Bangladesh also granted access to Chittagong and Mongla ports to china in 2019. The Chinese plan to help Bangladesh financially in erecting embarkment for management of the waters of the Teesta river is concerning for India.
But massive protests were held on Friday in Bangladesh to mark the 32nd anniversary of Tiananmen Massacre in Beijing. Protesters at Baitul Mukarram Mosque in Dhaka wear blue masks representing Uighur repression and human rights violations by the Chinese Communist Party. These protests can work as a downfall between the relation of both countries as China doesn't like any nation criticising the human rights violations done by the chinese. The importance of these protests increases as they were held on a very sensitive occasion, on the anniversary of the Tiananmen Square massacre which is the deadliest massacre ever performed by a country on its citizens and China wants to remove every aspect of this massacre from the history.
China in Myanmar
Coco island in Myanmar is strategically most important for China. It is located in the Bay of Bengal around 300kms south of Myanmar. This can be a serious threat to india as gives china a door in the bay of Bengal. The most shocking thing here is 'coco island' was a gift from india to Myanmar. It acts as a Chinese electronic intelligence installation in Myanmar. PLA is also been building a military base on Alexandra channel in coco island north of Andaman islands. China has been using the islands since 1994 when Myanmar leased the islands to China. These islands are also very close to the 'strait of malacca' which act as a major choke point in the region. It's an ideal location from where china can monitor India's naval and missile launch facilities. The development of a deep water port kyaukpyu by China in 2020/has worried india the most. China's veto in the UNSC on the recent military coup in Myanmar reflects China's will to strengthen its relationship with Myanmar.
China's influence in Nepal
After all those areas China's most important engagement is in Nepal. The pro china PM K.P Oli has encouraged Chinese investment to reduce dependency on India. The most important project is the strategic railway line which connects Tibet's Lhasa to Nepal's Kathmandu and further extends to Lumbini, which is very close to India Nepal border. Plus China has started construction of China Nepal friendship industrial park. Which is located in Nepal's eastern Jhapa district. Recently there is a rumour on the streets of Nepal that K.P Oli( pm of Nepal) is a Chinese agent and he's been honey-trapped by the Chinese. The brain behind these rumours is of the Chinese ambassador in Nepal. She guided the Chinese secret service to trap PM Oli. This shows the grip of China on Nepal. One of the examples of the hold of China on PM Oli is when china took several villages of Nepal under its control, PM Oli didn't comment a word against China. 
Tajikistan & wakhan corridor
According to the reports of the 'Washington Post', China has set up its second foreign military base 12kms off the Wakhan corridor in the north of India. Wakhan corridor is located on the trijunction of India china and Afghanistan. Currently, it's connected to pok which is illegally occupied by Pakistan. India's only foreign military is located at Farkhor in Tajikistan which makes the Chinese base more concerning for India.
India's counter encirclement
India's necklace of diamond strategy has been in the news recently. For its success, some Indian ports are important. First of them is the Changi Naval Base of Singapore. Indian navy does have access to this naval base of Singapore since the 2018 agreement which it uses for refuelling. Indonesia has granted access to Sabang port to India for military purposes in 2018. These ports can help in countering Chinese assets in Myanmar. India is also improving its relations with Myanmar and is developing Sittwe port in Myanmar. Indias access to the Duqm port in Oman can be proved crucial go countering Chinese ports located at Persian gulf, the horn of Africa and Pakistan. Indian got access to its Indian air force and the Indian navy here in 2018. Chabahar port of Iran is also being developed by India, but its benefit to India is debatable because of changing political equations. India already has military access to Seychelles and assumption islands in eastern Africa and also operate a coastal surveillance radar system here. It can be used to counter china if in case it gets a military base with a dual facility in east Africa. Other than this India has taken many steps in economic fields like increasing engagement with QUAD. In 2016 the Japanese PM Shinzo Abe has launched an " expanded partnership for quality infrastructure" ( EPQI) which was supposed to counter China's belt and road initiative. India has convinced Japan for the Asia Africa growth corridor (AAGC) in 2017 as an alternative to the china maritime Silkroad. With the existence of the USA, Japan, Australia led blue dot network (BDN), EPQI can become a massive project. To counter China's ambitions against India's encirclement strategy, india needs to expand its counter encirclement policy rapidly.