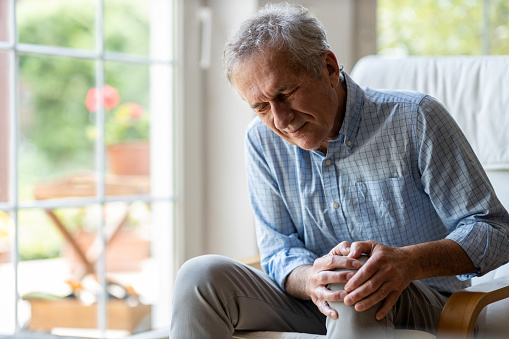 Osteoarthritis is the most well-known type of joint pain, influencing a huge number of individuals in the world. It occurs as a result of the wearing down of the cartilage that cushions the ends of your bone over time. It is a complex disease that integrates biomechanics and biochemistry associated with the knee. This is the standard way of defining OA which will be difficult to understand. Hence let us try to understand what OA is. The best way is by splitting the word and analyzing it part by part
Osteo- bone
Arth- joint
It is- inflammation    
As mentioned earlier, the unit of bone is called osteon and any word ending with itis refers to inflammation. Also, arthro term refers to joints in general. Hence the combination of the terms corresponds to inflammation of bones in the joint. This rather sounds simplified. The previous definition had complex terms like biomechanics and biochemistry. Biomechanics refers to the study of movement in living beings. Biochemistry refers to the study of the reactions occurring in living things. So in short, osteoarthritis is such a disease that results in inflammation of joints that occur due to wearing down of the bones surrounding the joint hence affecting the movement and chemical reactions which used to occur properly during normal conditions.
Osteoarthritis can occur in any joint in the human body like elbows, hips, knees, etc. Since our primary focus is on the knee, we will take a deep dive into it. In view of its expectancy and the tolerance that goes with sickness in the knee osteoarthritis represents more prevalence with daily activities like climbing steps and walking when compared to other diseases. Osteoarthritis is the most standardized reason for total knee replacement. As a result of the frequency of this disease especially in middle-aged people, osteoarthritis can act as an extensive barrier towards work and can lead to early retirement.
Coining of OA
Many say that the term osteoarthritis was coined by the British physician John Kent Spender but it was Richard Von Volkmann who tried to separate it from rheumatoid arthritis. The other names which were offered to this disease were 'chronical rheumatism'
'senile arthritis'
'hypertrophic arthritis'
'arthritis deformans'.
Effect of age
Osteoarthritis can affect people of any age group but it majorly affects old age people. National Library of Medicine suggests that people with an age greater than 70 have more risk to get osteoarthritis. The reason lies in the definition of osteoarthritis. The definition says that disease occurs due to the wearing down of bones. So the bones don't get worn down the next instant a baby is born. Every process requires time to occur. A mother has to wait for a minimum of 9 months to give birth to a healthy baby. A student must wait for 4 years to get a degree from college. Similarly, it takes time for the bones in the knee to get worn down.
This disease has always troubled old aged people in their lives. Living with osteoarthritis is dreadful. Even climbing the stairs will be a difficult task for them. Hence it is worth knowing about the disease.
HAPPY READING!!