Corporate governance is the current buzzword in corporate jargon. It has become a subject of discussion in corporate boardroom, academic circles and government around the globe. Unethical business conduct and behavior, laxity on the part of board, failure of external audit, unfettered powers in the hands of the Chairman/CEO, lack of transparency, inadequate disclosures, fraud, lack of proper internal audit are the most common governance problems/flaws noticed in the collapses of all such corporate failures in India, USA, UK and the other parts of the world.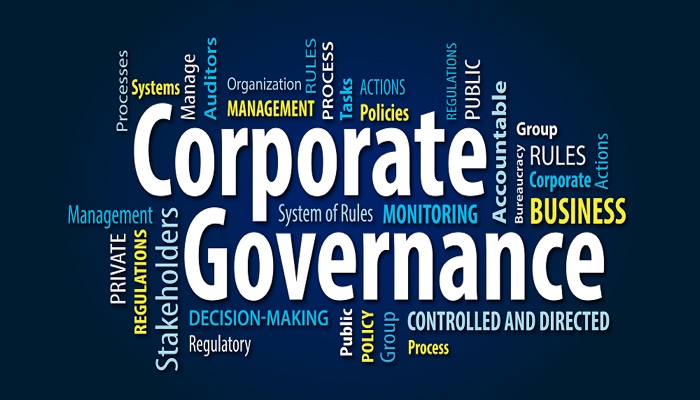 The last few years have also highlighted major scams that have changed the way businesses were seen and have resulted in pendulum of public faith. Due to this, the emphasis on Corporate Governance has increased so much that some firms have an independent department for handling it. Various independent start-ups are also built to manage corporate governance practices. The events such as Satyam scam, Harshad Mehta scam, AgustaWestland chopper scam, Enron, Lehman Brothers, WorldCom, HealthSouth etc. have shifted the market to focus on a regulated market from a free market.
What is Corporate Governance?
Corporate governance in simple words can be defined as the combination of rules, processes or laws by which businesses are operated, regulated or controlled. The term encompasses both, internal as well as external factors that affect the interests of a company's stakeholders, including shareholders, customers, suppliers, government regulators and management.
Many institutional investors have taken a substantial interest in engaging with respect to corporate governance and have dedicated significant resources to governance issues. Not only this, they are thinking about company outreach, the overall development of voting policies and also the analysis of multiple proposals on the ballots of their portfolio companies. Additionally, overall levels of shareholder activism remain at record highs, imposing significant pressures on targeted companies and their boards.
Benefits of Good Governance:
It provides a framework for accessing effective external finances.
It helps to achieve sustainability and improve company's performance.
It helps to conceptualize the practicality of CSR Activities that the company is having and gives it a new dimension to showcase it.
Helps in higher firm valuation and share performance.
It helps in reducing risks associated with corporate crisis and scandals.
It helps in effective management of relation among various people and entities such as shareholders, managers, employees, customers, creditors etc.
Fundamental Pillars of CG:
Fundamental Pillars of Corporate Governance include:
Accountability: Ensures that management is accountable to the board, shareholders and other involved.
Transparency: Ensures accurate disclosure of information on all material matter that includes financial situation, events, ownership, performances, mergers and corporate governance.
Independence: It gives freedom to take decisions so that major leaders are not influenced by others. There must be procedures and structures to minimize conflicts of interest.
Fairness: It combines treating all shareholders and related entities with fairness and provide effective redress for violations.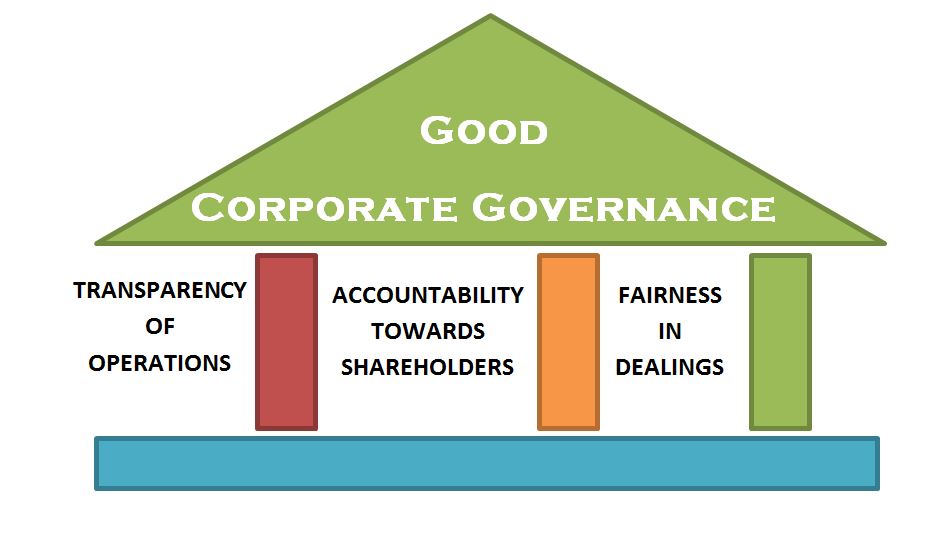 SEBI in India:
The Securities and Exchange Board of India is the regulator of the securities and commodity market in India owned by the Government of India. It was established in 1992 and given Statutory Powers on 12 april 1992 through the SEBI Act, 1992.
The main function is to make sure companies are running fairly and to stop any fraudulent activities of financial/stock market.