Information and communication Technologies (ICT) is a broader term for Information technology (IT), which refers to all communication technologies, including the internet, wireless networks, cell phones, computers, software, middleware , video-conferencing, social networking, and other media applications and services enabling users to access, retrieve, store, transmit, and manipulate information in a digital form. ICT are also used to refer to the convergence of media technology such as audio-visual and telephone networks with computer networks, by means of a unified system of cabling (including signal distribution and management) or link system. However, there is no universally accepted definition of ICT considering that the concepts, methods and tools involved in ICT are steadily evolving on an almost daily basis. To define professional skill levels for its ICT professional education products, the IEE computer society has adopted, for example, the Skills framework for the information age  (SFIA). The value of ICT strategies as a means of bridging the digital divide and as a powerful tool for economic and social development around the world should not be underestimated in agricultural and related sectors. Improving extension of ICT services to farmers would effectively improve the transmission of global open data for agriculture and nutrition for development of sensible solutions addressing food security nutrition and sustainable agriculture issue. By using ICTs, there have already "been diverse types of innovations taking place in the agriculture sector, which include commodity and stock market price information and analysis, meteorological data collection, advisory services to farmers for agricultural extension, early warning systems for disaster prevention and control, financial services, traceability of agricultural products, agricultural statistical data gathering, etc.
E-Agriculture refers to use of ICT in agriculture
In 2007, FAO and a group of founding partners launched the e culture community of practice- an online space to facilitate an exchange of knowledge and experiences of projects where ICT are used for agriculture and rural development.
To date, the e- agriculture community  has over 15,000 members from more than 170 countries and territories and about twenty international partners In 2016, the FAO and International Telecommunication Union (ITU)published the 'E-Agriculture Strategy guide Piloted in Asia Pacific countries'. This toolkit provides countries with a framework to develop their national e-agriculture strategies, which should help rationalize both financial and human resources, as well as address ICT opportunities for the agricultural sector in a more efficient manner.On this page E- agriculture you will find all information related to the use of the 'E-Agriculture Strategy Guide', the related workshops organized, and the progress made in different countries. 
Types of communication technology
Technology has reinvented the way people communicate. Originally simple devices have evolved into Communication channels that create connections worldwide. There are four main types of communication technology that have contributed to the ease of sending messages: telephone, radio, television, and internet.
Telephone
The telephone revolutionized verbal communication. People can talk to each other from any place in the world, strengthening relationships and eliminating the worries of long-distance communication. Speaking with someone across the country can be done just as easily as speaking with someone down the street.

As technology advanced, the device upgraded from "telephone" to "mobile phone." What used to be a heavy piece of equipment can now easily fit in your pocket. Not only is the modern telephone portable, but the features and capabilities are also advanced.

As the telephone progressed, it adopted new types of visual and written communication. Today, text messages and electronic versions of photos are regularly sent using mobile phones, increasing the possible amount of information being shared using phones.

The telephone introduced a brand new approach to verbal, written, and visual communication, and exciting new features continue to change the communication technology game.

Radio
About twenty years after the telephone, communicating using the radio came into play. Another innovation in the realm of verbal communication, radio is used to reach sizable audiences, as opposed to just one person on the other end of a phone.

The radio's ability to reach a large audience at a low cost continues to motivate a lot of communicators to take full advantage of the tool. Information providers, such as advertisers and newscasters, spend substantial amounts of time communicating with their massive audiences using radio technology.

Radio technology transformed the way information is delivered to large audiences and continues to strengthen mass communication.

Television
Television is another way to reach extensive audiences, but it brought a new perk to the table: visual communication.

Some information is hard to describe using just words. Television provides audiences with the best of both worlds: information and visuals to accompany it. This advantage caused the television to replace the radio as the leading tool for mass communication.

Today, there are thousands of television channels that communicate information on almost any topic: history, sports, news, science, fiction, and so on. Whether it be for entertainment or cold hard facts, people are constantly turning to television for information.

Internet
The internet removes the need for communicators to have a separate device for each different type of communication technology. With the Internet, you can do it all in one place.

As the queen bee of interaction, the internet successfully combines all types of communication technology and houses them in one place. It provides the largest array of information and communication sources known to man.

The tools available on the internet make any type of communication effortless. Verbal and nonverbal communication can be accomplished with video conferencing software. Written messages can be sent through email. Electronic versions of pictures can be sent to and from any internet device.

Customer communication software is another example of one of these tools. While other gadgets help make communication between a business and their consumers easy, certain tools can often be considered hybrid – bringing together different types of communication.

Live chat is a rare hybrid tool that combines all types of communication – verbal, nonverbal, written, and rich media – through audio and video conferencing software, instant messaging, and file sharing capabilities.

Customers can place orders, ask questions, or troubleshoot issues through live chat, all on a single customer communication platform. This gives them access to a business and allows them to connect with an agent whenever they have a query. With live chat software, it's never been easier to connect.
Information and communication technology
Information and communication technology refers to a connected system of interactive tools and technologies that are used to send and receive information. Whether it be an individual or an entire company, if a single entity is using multiple types of technology to communicate, they must be linked to ensure efficiency.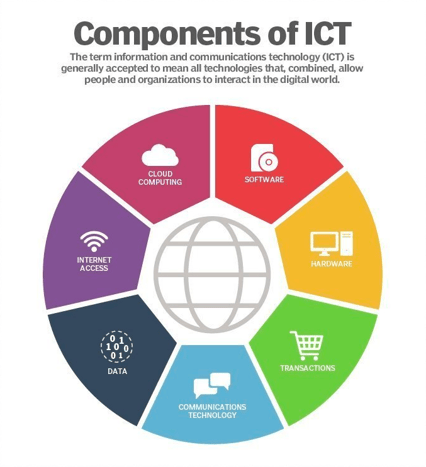 These systems of interactive tools can include state-of-the-art innovations, such as artificial intelligence, and less advanced technology, like the corded telephone. The ability and newness of the device aren't important. If multiple technology tools are being used by an individual or business, they should be connected.
Information and communication technology have changed the way people go about their days living, working, and communicating. These innovations have taken over certain duties that people never would have imagined a machine to do, such as answering phones and giving human-like responses or speaking into a device and having it write a message for you. Information and communication technology allows people to effectively communicate in the technological world.
Stay tuned : Information and communication technology is an expansive topic, and the ideas within it continue to evolve. You don't have to be an expert, but understanding the basics and keeping up with new communication technology will help make you the best communicator possible.