Madhya Pradesh, often called the "Heart of India" is a state located in the central India. Tourism in Madhya Pradesh has been an attraction of India because of its location in the centre of the country.The heart of Central India is a treasure trove of natural richness, wildlife, history, heritage & beauty. Overall, there are three UNESCO world heritage sites in Madhya Pradesh.
These three sites in Madhya Pradesh have been declared World Heritage Sites by UNESCO:
The Khajuraho Group of Monuments
Buddhist Monuments at Sanchi
The Rock Shelters of Bhimbetka
The Khajuraho Group of Monuments:
Khajuraho was the principal seat of authority of the Chandella rulers who adorned it with numerous tanks, scores of lofty temples of sculptural grace and architectural splendour. Temples of Khajuraho are world famous for their architectural art. Most Khajuraho temples were built between 885 AD and 1050 AD by the Chandela dynasty. Historical records note that the Khajuraho temple site had 85 temples by the 12th century, spread over 20 square kilometers. Of these, only about 25 temples have survived, spread over six square kilometers. Of the surviving temples, the Kandariya Mahadeva Temple is decorated with a profusion of sculptures with intricate details, symbolism and expressiveness of ancient Indian art.
The Khajuraho temples are made of sandstone, with a granite foundation that is almost concealed from view. The builders didn't use mortar: the stones were put together with mortise and tenon joints and they were held in place by gravity. This form of construction requires very precise joints. The columns and architraves were built with megaliths that weighed up to 20 tons. The Khajuraho and Kalinjar region is home to superior quality of sandstone, which can be carved precisely. The surviving sculpture reflect fine details such as strands of hair, manicured nails, and intricate jewelry. These temples are exiqusite example of medieval India's architecture.
Sanchi Stupa
Sanchi is located in west-central Madhya Pradesh state,near the city of Bhopal.The town of Sanchi is synonymous with Buddhist Stupas – hemispherical structures typically containing relics of the Buddha or his followers. The Stupas of Sanchi were constructed on the orders of Emperor Ashoka to preserve and spread the Buddhist philosophy. Sanchi has been protecting these beautiful and sacred architectural wonders, just the way these wonders have been safeguarding ancient history and art of the Mauryan period.
The numerous stupas, temples, monasteries and an Ashokan pillar have been the focus of interest and awe for global audiences as well.
The Rock Shelters of Bhimbetka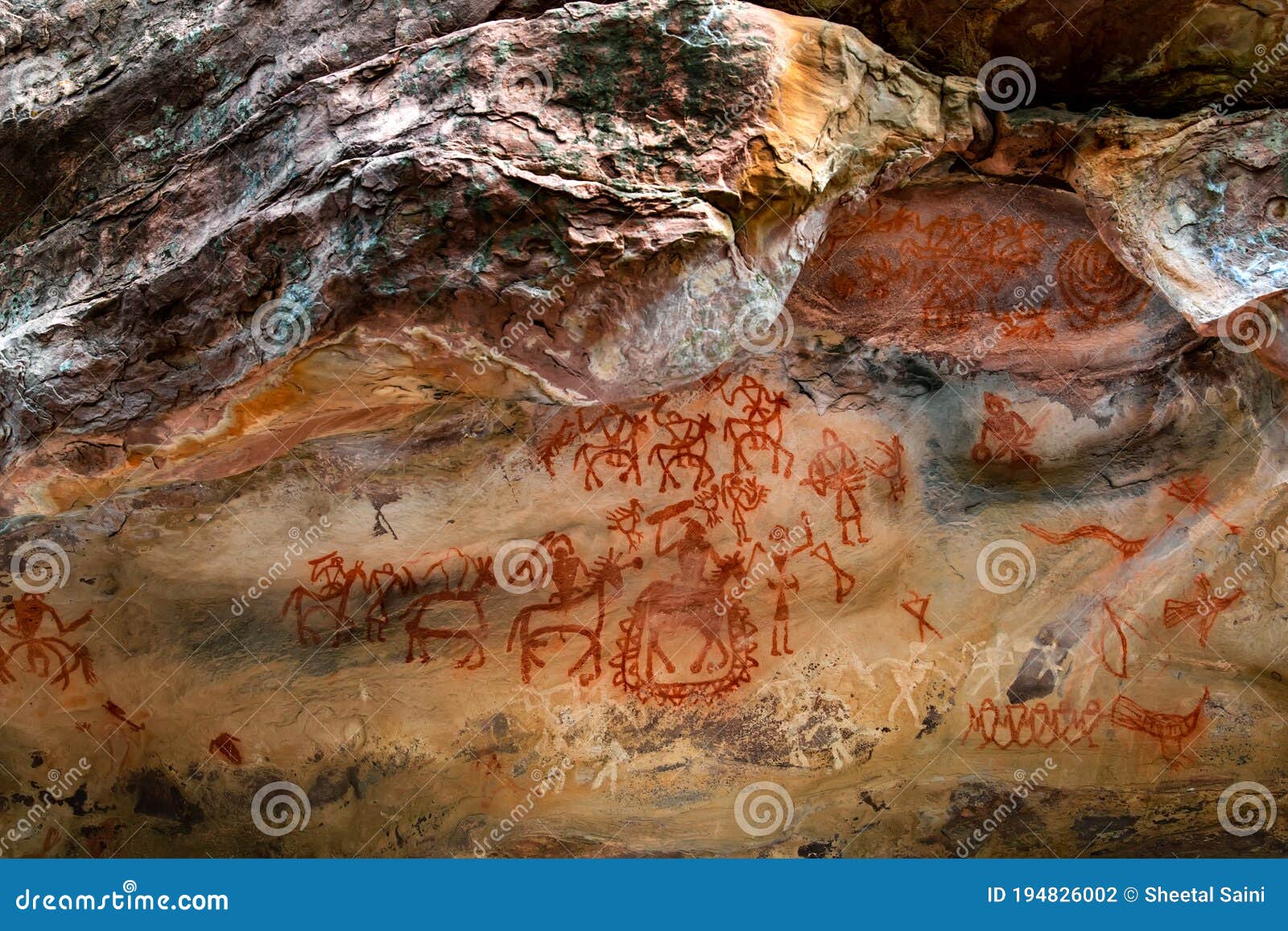 Bhimbetka rock shelters, series of natural rock shelters in the foothills of the Vindhya Range, central India. They are situated some 28 miles (45 km) south of Bhopal, in west-central Madhya Pradesh.
The Bhimbetka rock shelters are an archaeological site in central India that spans the prehistoric Paleolithic and Mesolithic periods, as well as the historic period. It exhibits the earliest traces of human life in India and evidence of Stone Age starting at the site in Acheulian times. It is a UNESCO World Heritage Site that consists of seven hills and over 750 rock shelters distributed over 10 km (6.2 mi). At least some of the shelters were inhabited more than 100,000 years ago. The rock shelters and caves provide evidence of, according to Encyclopædia Britannica, a "rare glimpse" into human settlement and cultural evolution from hunter-gatherers, to agriculture, and expressions of prehistoric spirituality.
Some of the Bhimbetka rock shelters feature prehistoric cave paintings and the earliest are about 10,000 years old (c. 8,000 BCE), corresponding to the Indian Mesolithic. These cave paintings show themes such as animals, early evidence of dance and hunting. The Bhimbetka site has the oldest-known rock art in India, as well as is one of the largest prehistoric complexes.