Unlike practical skills such as maths, reading, science and social studies, soft skills take priority around communication, relationships with others, and self-discipline. These essential skills are generally learned from their families and peers outside the school environment. Often these skill sets are not taught at all. Ever ask a teenager a question, shooting their hands in their pockets, averting their eyes and mumbling some incoherent answer. It makes you irritated, perhaps even sceptical, but that teen may not have learned the soft skills necessary for child development before you rush to judgement.
Typically these collections of behavioural skills are not learned in classrooms, but studying them in childhood will avoid potential problems.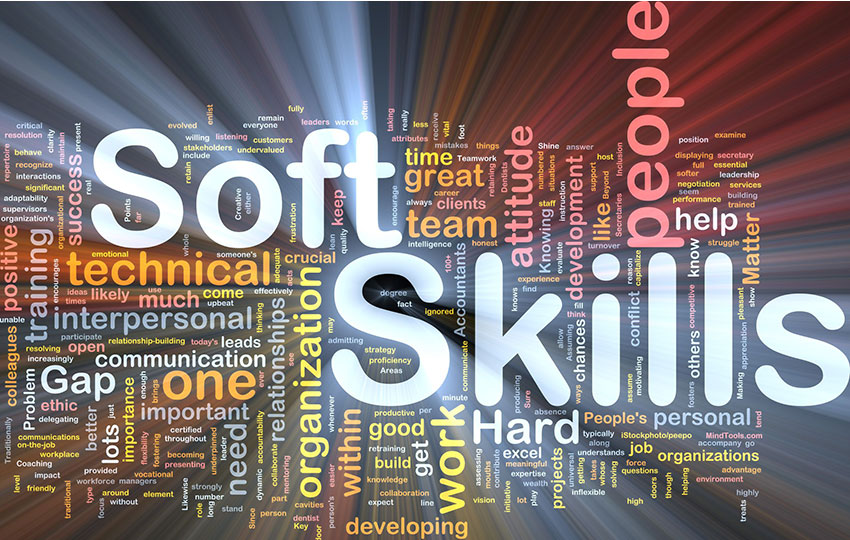 Have you ever noticed the self-confident class president learnt from his history teacher how to smooth out his path to victory? He learned more than likely from imitating a member of the family or through a mentor. Yet just what exactly are these soft skills?
Inter-Personal Skills
Interpersonal skills may include greeting older people and colleagues and interacting with individuals outside their immediate family, peers and adults.
Good Manners:
Okay, thank you, you're welcome, yes ma'am, no sir. All interpersonal skills which are usually not addressed in the school curriculum are polite manners. Ever hold someone's door open? Who showed you how to do it?
Communication:
How to hold a conversation with someone. Clear and precise, with no stammering, no hands over the mouth, or averted eyes and reclined posture to get your point across.
Listening:
Listening is just as critical as talking and for many this soft ability has fallen behind because of our dependence on electronics.
Rapport Building:
Producing mates and mergers. Also, due to our technologies, we rely more on messaging than face to face contact, which is important to establish good relations with others.
Being Empathetic:
To look at things from the shoes of another person. If you are facing a question from another person's perspective, you are less likely to saunter over this situation without worrying about how the outcome might affect others.
How you can teach soft skills to your children
You showed your kids their ABC's, how to recognize their address and telephone number, and how to ride a bike and now you have to show them social skills?! Kids learn a lot of interpersonal skills by example before you tear their hair out. Incorporating them into your daily life is easy – in fact you might already do most of them.
Learning Fine Manners:
You don't need to send your children to the school to learn good manners. Inculcate the learning of fine manners in your kid's life through the way you go about your life. Always say thank you and please. Hold the door open to people, and use phrases such as 'excuse me' and 'welcome.' And expect your kids to follow suit.
Communication and building good relations:
Have your children look directly at the person they're communicating with. Ear buds coming out of ears. Cell phone was tucked away in the pocket. They should concentrate on the individual and listen properly and react properly.
This will help them build good relationships also with people. If they sit in sufficient conversations with adults – with their electronics confiscated – they become aware of the gift and engage in good conversations.
A lesson in the shoes of somebody Else:
Both children will be experiencing a touch of empathy. All too often teens scream 'get a job' at a homeless person on the street corner and request other children's names, without really thinking that there might be a story behind their situation. The girl at the school who stinks can be homeless and without running water. The beggar may be a proud veteran on his luck at the door.