What is SAD?
Social anxiety disorder (SAD) more commonly referred to as social anxiety or social phobia is an inherent mental health issue characterized by senseless anxiety due to social interactions.
According to a research paper drafted by Phillip Jefferies and Michael Ungar, Social anxiety occurs when individuals fear social situations in which they anticipate negative evaluations by others or perceive that their presence will make others feel uncomfortable. (cited:
.https://journals.plos.org/plosone/article?id=10.1371/journal.pone.0239133
It is an intense persistent fear of being watched and judged by others. This fear can affect work, school and other day-to-day activities. It can even make it hard to keep friends. (cited:
https://www.nimh.nih.gov/health/publications/social-anxiety-disorder-more-than-just-shyness
According to some rough SAD statistics, this disorder affects about 7.1 percent of the population, 8 percent of women and 6.1 percent of men.
Though SAD can affect people regardless of age or gender, research points towards a general early (teenage) onset of social anxiety due to reasons unknown or some underlying trauma.
Causes of SAD
Social anxiety may have a plethora of underlying causes yet in some cases the disorder might be sudden and unexplained.
Ever since it was officially recognized as a disorder in 1980 by the American Psychiatric Association, scientists all over the world have been trying to identify and understand the causes of social anxiety disorder (SAD).
Like for most psychological conditions, the majority of contemporary professionals agree upon the idea that SAD is caused by a combination of genetics as well as environmental and socioeconomic factors.
What this means is that there is hardly one specific root cause of social anxiety, but rather a variety of factors that can lead to a certain vulnerability that favours its development. (Cited:
https://www.conquersocialanxiety.com/causes/
Social anxiety may also be directly linked to low confidence and constant self blame.
social anxiety disorder likely arises from a complex interaction of biological and environmental factors. Possible causes include:
Inherited traits. Anxiety disorders tend to run in families. However, it isn't entirely clear how much of this may be due to genetics and how much is due to learned behaviour.
Brain structure. A structure in the brain called the amygdala (uh-MIG-duh-luh) may play a role in controlling the fear response. People who have an overactive amygdala may have a heightened fear response, causing increased anxiety in social situations.
Environment. Social anxiety disorder may be a learned behaviour — some people may develop significant anxiety after an unpleasant or embarrassing social situation. Also, there may be an association between social anxiety disorder and parents who either model anxious behaviour in social situations or are more controlling or overprotective of their children. (cited:
https://www.mayoclinic.org/diseases-conditions/social-anxiety-disorder/symptoms-causes/syc-20353561
SYMPTOMS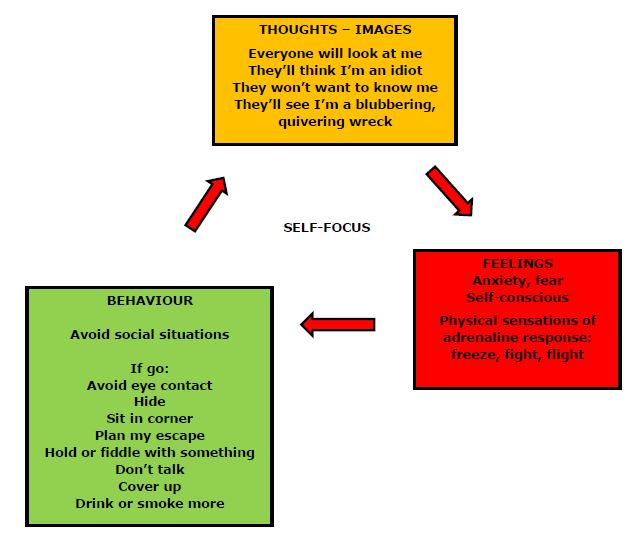 Symptoms of SAD include physical, behavioural or cognitive changes that are often dead giveaways of some underlying issue.
Emotional and Behavioural Signs:
The following emotional and behavioural symptoms may show up in people with social anxiety:
Fearing situations where you might be judged
Fear of showing physical symptoms such as blushing, trembling, sweating, or an unsteady voice
Worrying you will embarrass or humiliate yourself
Intense fear of interacting with strangers
Avoiding any situation in which you will being the centre of attention
Getting anxiety in anticipation of an activity or event
Avoiding going places or speaking to people out of fear of embarrassment
Fearing people will notice your anxiety
Spending significant time analysing and critiquing the way you acted in a social situation
Expecting the worst outcomes from a negative social experience
For children, emotional and behavioural signs may include: 
Crying
Throwing temper tantrums (outbursts of crying and anger)
Clinging to parents or guardians
Refusing to speak to people 
Physical Signs:
Some of the external signs of social anxiety disorder include:
Blushing
Rapid heartbeat
Sweating
Difficulty catching your breath
Shaking
Nausea or upset stomach 
Light-headedness or dizziness
Tight muscles 
Social Signs:
One of the main signs of social anxiety is avoiding social situations. Someone with this disorder may avoid or find difficulty being in the following situations:
Treatment and Self help
As established SAD is a disorder that requires thorough medical attention, which may include therapy, meditation, courses for instilling confidence etc.
Psychotherapy

. Psychotherapy improves symptoms in most people with social anxiety disorder.
First choices in medications. Though several types of medications are available,

selective serotonin reuptake inhibitors

(SSRIs) are often the first type of drug tried for persistent symptoms of social anxiety.
Other medications.

Other antidepressants

. You may have to try several different antidepressants to find one that's the most effective for you with the fewest side effects.
Stick with it.

Don't give up if treatment doesn't work quickly

. You can continue to make strides in psychotherapy over several weeks or months.

Alternative medicine

. Several herbal remedies have been studied as treatments for anxiety. Results tend to be mixed, and in several studies people report no benefits from their use. (Reference: www.mayoclinic.org/diseases-conditions/social-anxiety-disorder/diagnosis-treatment/drc-20353567
Thinking Differently

When we're in a social situation with a group of people, our focus of attention becomes totally caught up in our own thoughts and feelings.  We see everyone around us, but all we can think about is how they might be thinking critically about us!  The adrenaline response of anxiety makes us feel terrible too, so we're thinking about how horrible that is, and how we just want to escape the situation. 
It is very helpful to learn how to change our focus of attention and take more control over how we react to thoughts. We can learn to just notice the thoughts, acknowledge them, then let them pass. Notice the Mind Bully and let it go – turn your focus of attention to something else. First of all, you might learn to focus on your breathing.
Practise Mindful Breathing
(cited: https://www.getselfhelp.co.uk/socialanxiety.htm
Conclusion
In conclusion, social anxiety is the third most common disorder worldwide that affects millions of unsuspecting individuals every year throughout the world. It is high time that we treat social anxiety patients with respect and consideration and give this disorder its due attention without tiptoeing around it.
It is also absolutely essential for people suffering with SAD to seek medical help(easier said than done) but one has to start somewhere.
Lastly, there should be no embarrassment in seeking professional help and it should be absolutely normalised.
A strong will to overcome anxiety, is the guaranteed first step in the long overdue chain of recovery.