"One could not count the moons

that shimmer on her roofs,

or the thousand splendid suns

that hide behind her walls."

Khaled Hosseini, A Thousand Splendid Suns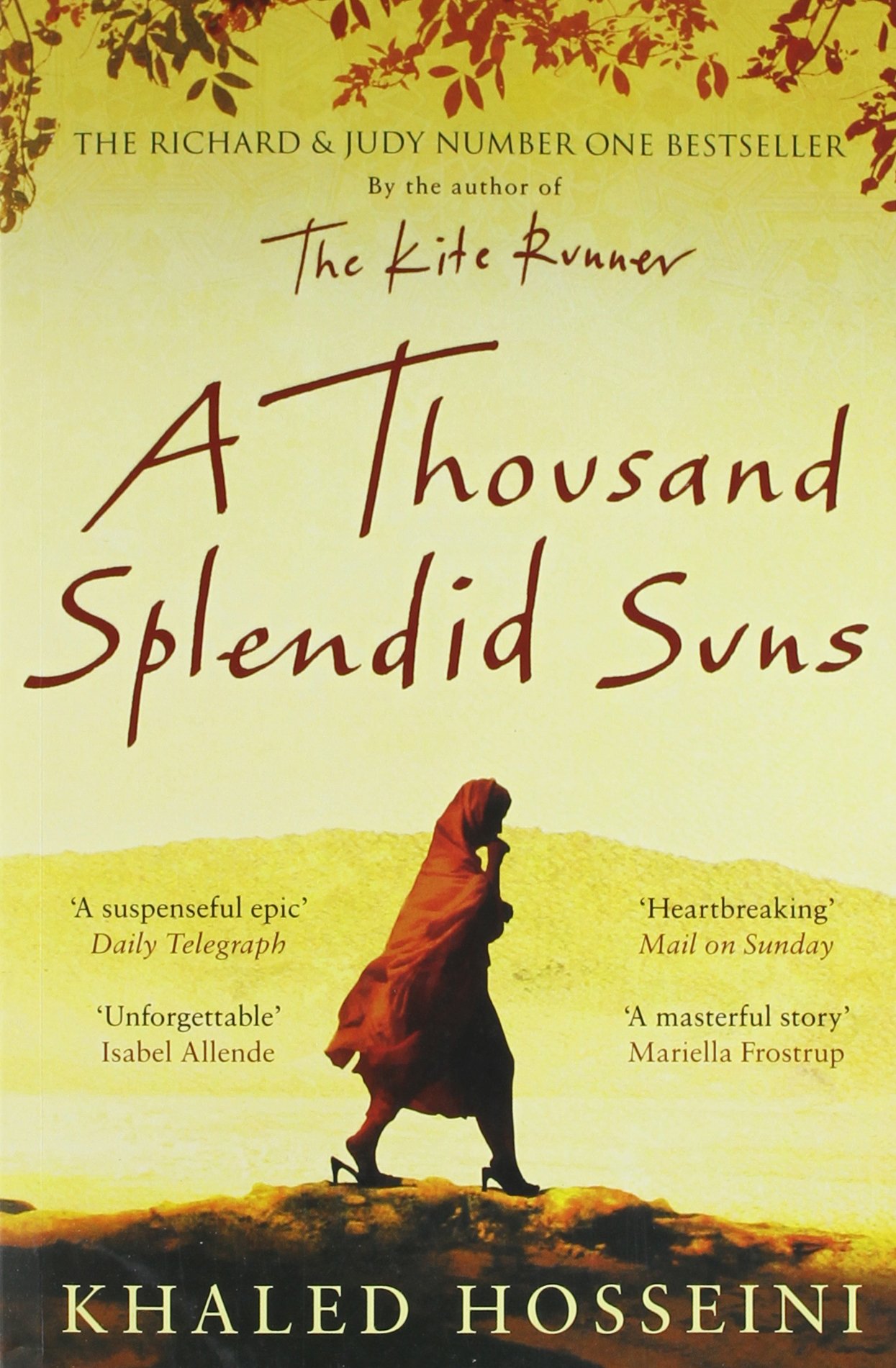 Brief Overview:
A Thousand Splendid Suns is a fiction novel by Afghan-American novelist Khaled Hosseini. The novel is set in the backdrop of the Afghanistan turbulence 1960 onward. Capturing martial elements from Soviet union to the authoritarian Taliban, the author has weaved a portentous tale of two women, Mariam and Laila. Separated by decades of age, these women are conjoined by an exceptional bond which later blossoms into a beautiful friendship.
The novel follows Mariam, an illegitimate child of a rich Herat merchant, who though loves her but is equally ashamed of her. Following her mother's death, Mariam goes on to live with her father, his three legitimate wives and nine children, all of whom are unknown to Mariam.
Here the novel draws attention to the class disparities. Mariam, being an illegitimate child through their housekeeper is made to slave in her father's household , bereft of education or love, by his wives while his legitimate children lead glamorous lives. Wishing to rid themselves of Mariam who is now about 15, her father's wives arrange a marriage for her to Rasheed,a Pashtun shoemaker from Kabul who who is about two decades older than her.
At first Rasheed appears as an indifferent yet a person of clement disposition, helping Mariam settle in the new city. The persona soon, however crumbles as Rasheed begins forcing Mariam to fulfill her so called obligations towards him. Following Mariam's miscarriage, Rasheed turns out to be a hypocritical, bitter man pressuring and muscling Mariam every step of the way.
About a decade later in the novel does Laila's story begin. The daughter of a teacher, Laila is loved immensely by her father, while her mother constantly mourns the death of her two elder brothers, who were killed seven years ago, fighting alongside Ahmad Shah Massoud. The author has drawn a sharp parallel between the two women. Laila is portrayed as the face of an emerging Afghanistan for women, pursuing education and strong willed, Laila falls in love with her best friend Tariq, who loses his leg to the ongoing Afghan turbulence. In a drastic spur of events Laila loses her parents and is separated from Tariq. Desperate for a shelter and to protect a secret she's nurturing, Laila marries Rasheed. What follows is a tale of everlasting friendship, heart wrenching sorrow and the purest form of love.
Book Review:
A Thousand Splendid suns is a book so finely written that it makes your heart ache. The bond between Laila and Mariam is as beautiful as a full bloomed rose, the color of blood. The story, particularly of Mariam is written with such a palpable feeling of sorrow and hopelessness that it feels extremely personal.On the other hand, Laila's coming of age has been described as an experience full of aspirations and hope. Laila and Tariq's chemistry is an exceptional blend of sweet and fiery.
There are a myriad of symbols and metaphors used in the book that make the entire thing full of allusions.
The author has unraveled themes of women, femininity, marriage and war in the book as an astounding whole.
The cultural aspects of Afghanistan have been richly used and amazingly described which amalgamate to give this book a perfect finish.
The book also divests into several explicit issues such as racism, sexual content, religious ideals etc.
This book is a suitable read for people above 13 years of age.
All in all, this book is bound to be a a roller coaster ride of emotions for the reader. It is an absolute must read and sure to make your eyes spill tears of distress.