I have seen many motivational movies both in Bollywood and Hollywood. But Bollywood movies are very special as they contain emotional content and beautiful songs. There are many people who think Bollywood only produce entertaining movies which I don't think is a fact. Cinema is the reflection of society and vice-versa. However, a society has its own deep rooted beliefs and perceptions which trickle down through the ages and become a reference point for generations to come. In such a scenario, is it possible for a piece of art to come and impact your perceptions in a way that you see something in a whole new light?
I have collected a list of Bollywood movies that I have watched and I suggest you to watch if you're free this weekend..Here is the list!
Swades (2004)
We all want to secure good marks in college, get a high-paying job, if possible settle abroad and live our lives comfortably ever after. However, how many of us can leave this settled life behind and devote it to the upliftment and betterment of the lives of our rural brethren. Swades is a story of self-less devotion to the country and bringing development at the grass-root level. A must-watch for all who want to contribute to their motherland in their own little way.
Taare Zameen Par (2007)
Have we ever wondered why a glass appears half empty to some of us while it looks half full to others? It's just a matter of perception, we say. Taare Zameen Par breaks the stigma attached with the differently-abled children and leads us to give them a fair chance. Such movies leave a lasting impact on our psyche and help us immensely in bettering our judgement towards life. And in case, you forgot the message of the movie, repeat it with us, every child is special.
Luck By Chance (2009)
Luck by Chance brings the struggles and cynicism of the film industry to the fore like never before. Most of us are dreamy eyed about the glamour world and think of it as 'the life' to have. Here's where Zoya Akhtar's LBC comes in and takes you to a walk through the backstage of Bollywood. It introduces you to the personalities you never imagined existed and tells you the level of stakes involved in the business, through the eyes of an aspiring actor Vikram (Farhan Akhtar). Consider this your Bible if you see your future in the showbiz.
Rocket Singh (2009)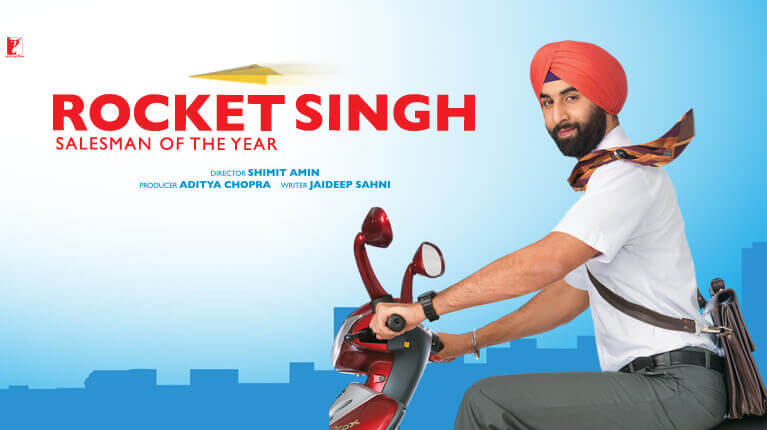 Admit it! We have all given up on some life-changing idea at least once in our lives because we lacked the courage to make the actual plunge. No wonder we move on with a familiar remorse in our hearts. Rocket Singh teaches us an amazing lesson about self-worth which stresses on the fact that an organisation is only as good as its employees and that taking risks in life is not as bad as it seems initially.
Lakshya (2004)
Being aimless in life and careless about career is a phase everyone goes through. Having a quarter-life crisis is not so bad either. However, the magic lies in waking up at the right time. Forget everyone else, the real deal is to surprise yourself with your own capabilities and to do something that you yourself never expected to do. After all, this is what Lakshya taught us. To leave one life and live the other!
Rang De Basanti (2006)
Anyone who watches this movie will feel a connect, especially the youth. Aren't our adrenaline levels always pumping and haven't we all discussed the flaws of the system over a cup of steaming chai ? But what have we actually done to fix it? Nothing. Rang De Basanti tries to create an environment of increased activism on matters of public interest and throws open a debate: do we want to take matters into our hands or keep crying foul about the inefficiencies of the society?
Paan Singh Tomar (2010)
While biopics of legendary people always inspire viewers, it takes a movie like Paan Singh Tomar to shake them up to the conditions and tragedies of these stalwarts post their prime. PST is the story of a real-life athlete Paan Singh Tomar, a gold medalist who went onto becoming a dacoit, after the world around him refused to acknowledge him for his accomplishments and kept pushing him down. The USP of the movie lies in the stirring tragedy of PST's life which drives him to seek revenge from the system, for his lost career and life. This one is history in motion.
A Wednesday (2008)
In these times of increased violence and hatred towards each other, aren't we all living an uncertain life which might just end today, at this very moment? But we, the common people, sit quietly like always while our safety becomes a game of ping-pong between terrorists and our government. This film stresses on the importance of a wake-up call to our government to act towards the safety of its citizens. A Wednesday is a stirring message to all common men like me and you to not play vulnerable all the time and come together and ask our system to be accountable to us.
Dil Chahta Hai (2001)
There are times when you want the clock to stop. There are times when you don't want to leave a place. There are times when everything just feels right about the company that you have. Such is the gravity of friendship in youth. You don't want to grow old. But unfortunately, time waits for no one and one has to move on in life and live one's own story. Dil Chahta Hai is a coming-of-age story which remains an essential part of everyone's life, simply because it holds true no matter how many times we watch it.
Udaan (2010)
Easily the most relatable, easily the most convincing. That's why Udaan works and changes your deep rooted perceptions towards a very tender phase of a child's life, teenage. The movie tracks the journey of Rohan, who returns to his home after 8 years of boarding school, only to be welcomed by a disciplinarian father and a half brother.  The beauty of Udaan lies in the way Rohan fights and aims for his dreams rather than being tied down by his father. The movie sends a strong message which says we can become whatever we want in life, all we need to do is give our dreams a little flight.